Select Your Injury Type
(check all that apply)
Albany, New York Motorcycle Accident Attorney | Albany County Motorcycle Injury Lawyer
Motorcycle Accidents, Motorcycle Injuries and Insurance Claims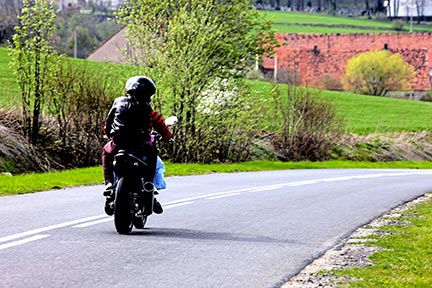 Have you been injured in a motorcycle accident due to the negligence or reckless of someone else? You may need to speak with an experienced Albany motorcycle accident attorney. In Albany, New York, there are many potential causes for a motorcycle accident. For example, there may be an unexpected shift in the upstate New York weather, or a dangerous roadway condition may exist due to an impediment placed or dropped on the highway from a truck. Of course, as every seasoned motorcyclist knows, there is no shortage of careless car and truck drivers in any city. The area of Albany, near the Hudson River, is not only the State Capitol, but it is also home to a winding set of highways traveled on by many large, inter-state trucks. The likelihood of being in an accident can be minimized by careful and attentive riding. However, even the most experienced motorcyclists may be unable to avoid the reckless negligence of a driver of a motor vehicle. In fact, 75% of motorcycle accidents are with another vehicle. Speeding and alcohol or impaired driving may have also contributed to the accident.
Contact an Albany motorcycle accident attorney by filling out the questionnaire on this website. You will be called promptly. Filling out the questionnaire creates no obligation on your part.
Other than riding carefully, there are a few things that a motorcyclist in Albany can do to minimize the chance of an accident with a motor vehicle. Motorcyclists can use safety equipment and take precautionary measures such as turning on your headlamp, wearing hi-visibility yellow, orange or bright red jackets may help decrease your chances of an accident. Most of these items can be purchased at Spitzie's Harley-Davidson in Albany (Located at 1970 Central Ave), or in nearby Troy at Brunswick Harley-Davidson (Located at 1130 Hoosick Rd NY 7). 98% of motorcycle accidents with another vehicle result in injuries.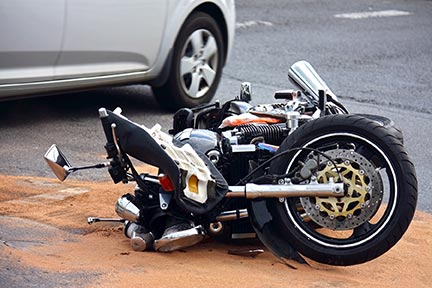 Some of the most frequent or common injuries suffered in a motorcycle wreck are:
Road rash;
Lacerations;
Severe soft tissue trauma;
Spinal cord injuries;
Concussion and brain damage - when head violently contacts other vehicle or object;
Fractures/Broken bones - shoulder and pelvis are the most common;
Fracture of joints - elbows, shoulders, hips, knees, and wrists;
Biker's arm - nerves in upper arm are damaged during fall, causing permanent paralysis of arm movement;
Facial disfigurement - in absence of full-face helmet. 35% of all crashes show major impact in the chin-bar area; and
In extreme cases, motorcycle wrongful death or motorcycle fatality cases.
The most common or frequently seen injury in a motorcycle accident is road rash, which may not sound bad compared to a traumatic brain injury. Road rash can be very serious and if not treated properly and quickly it can turn into permanent damage, like infections or nerve damage.
The loss of an arm, leg or part of the body, severe head injuries and paralysis are horrible, life changing injuries. If you have experienced any of these devastating injuries, it is imperative that you be treated at a medical treatment facility. Saint Peters Hospital, is located at 315 S. Manning Blvd., Albany, NY, 12208, Albany Medical Center is located at 43 New Scotland Avenue, Albany, NY 12208, and Albany Memorial Hospital is located at 600 Northern Blvd. Albany, NY 12204, all of which can treat you and your injuries if you have not received appropriate medical care to date.
Why You Need an Albany Wrongful Death Motorcycle Accident Lawyer?
Trying a motorcycle accident case is unique and different from your general auto accident case. Motorcycle accident attorneys have experience highlighting and communicating proper road etiquette to a judge or jury. Often, there is a built in bias in the mind of many motorists against motorcyclists. An experienced Albany motorcycle accident attorney will have more experience breaking through these biases by focusing on the other party's negligent conduct.
Additionally, an Albany motorcycle accident attorney is more likely to understand how your particular injuries affect you and your family. Generally, injuries resulting from motorcycle accidents require long term/assisted care that can be very costly. Enduring the types of injuries typically bring on anxiety and depression, which can make proper recovery more difficult. An Albany motorcycle accident attorney will likely be able help you find local resources/medical clinics to help you through this difficult time. Having an experienced motorcycle accident lawyer will help you and your family navigate the litigation and negotiation process, which is often necessary with these accidents and injuries. When another person's fault or carelessness results or contributes to a motorcycle accident and adversely effects your life, you need and deserve monetary compensation for your losses.
A trained motorcycle accident attorney can help you protect your rights. He or she may be able to file your claim in one of the following Albany courts:
Albany Country Supreme Court
16 Eagle Street, Room 102
Albany NY 12207
(518) 285-8989
OR
Albany County Court
6 Lodge Street
Albany, New York 12207
Motorcyclists have every legal right to be on the road; the same as any other vehicle. With an Albany Motorcycle Accident Lawyer, you will talk to an experienced New York injury attorney who will make sure your case gets the attention it deserves.
Helpful Things to Do:
Get medical help. Your first concern after a motorcycle accident should be medical attention for any injuries. The quicker you receive quality medical care, the better your physical results and the better your economic recovery will be.
Talk to a lawyer. An Albany Motorcycle Accident Lawyer will know personal injury law and have the experience to represent you effectively, explain your rights, tell you your options and help you make the best decisions.
Don't wait to make a claim. You need to make an insurance claim as soon as possible. The claims process should begin as soon as possible while accident reports, witness accounts, and medical records are fresh. Try to talk to an Albany Motorcycle Accident Lawyer before you talk to an insurance adjuster or claims person.
Insurance claims. Insurance employees, claims' adjusters, and claims' representatives have and use attorneys and lawyers to help them reduce, diminish or eliminate the amount they pay you for your injuries and damages. You have become a victim once, do not make it twice. Don't get out lawyered, get a professional Albany motorcycle accident lawyer to help you get what you deserve.
It is the law. You would not take your Hog to a bicycle shop for repairs, so get a licensed lawyer that knows the laws and knows your rights, someone that has been down that road before, an Albany motorcycle accident lawyer.
Additional Resources
If you do not have any money or any healthcare insurance, there are facilities that probably will treat you in Albany. They are:
Whitney M. Young, Jr.
900 Lark Drive
Albany, New York 12207-1300
(518) 465-9345
Whitney M. Young, Jr.
10 de Witt Street
Albany, New York 12207-2423
(518) 463-3882
In the unfortunate circumstance of a fatality resulting from a motorcycle collision, we have provided a checklist that will assist you in this time of grief and loss. It has all necessary items that should be considered.
The Albany motorcycle accident attorneys that receive your submitted information can serve your motorcycle injury legal needs in Albany, New Scotland, Buckingham Lake - Crestwood, West Hill, Pine Hills, South End, Arbor Hill, Downtown Albany, Beverwyck, Winchester Gables, Whitehall, Melrose, Westland Hills Park, Roessleville, Menands, Laudonville, Siena, Newtonville and Albany County, Rensselaer County and Schenectady County as well as accidents occurring inner-city or on Interstates 90, 787 and 87 as well as US Highways 9W, 20 and US 4.